The Bonnie Claire Lithium Property
The Bonnie Claire Property is located within Sarcobatus Valley that is approximately 30 km (19 miles) long and 20 km (12 miles) wide. Quartz-rich volcanic tuffs, that contain anomalous amounts of lithium, occur within and adjacent to the valley. Geochemical analysis of the local salt flats has yielded lithium values up to 340 ppm. The gravity low within the valley is 20 km (12 miles) long, and the current estimates of depth to basement rocks range from 600 to 1,200 meters (2,000 to 4,000 feet). Four drill holes have identified an open ended, 43-101 compliant resource of 28.58 billion kilograms of lithium carbonate equivalent. The drilling that defined the current resource only covered an area of 3.0 km2 (1.2mi2), while previously run MT geophysics show a potentially mineralized area of 27.3 km2 (10.5mi2). Drilling to date has shown strong correlation between the MT results and the lithium mineralization. The thickness of the lithium mineralization is unknown, but drilling indicates it is greater than 600 meters (2,000 feet). The current claim block covers an area of 57.5 km2 (22.2mi2). Further drilling has been permitted and metallurgy to determine the most efficient recovery method is currently in progress.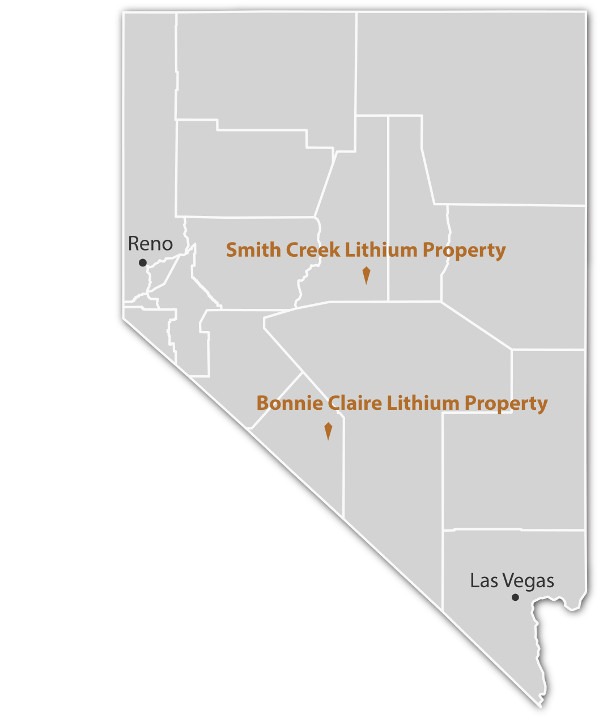 Reports
Click here to view Preliminary Economic Assessment NI 43-101 Technical Report
Click here to view the NI 43-101 mineral resource estimate technical report
| | |
| --- | --- |
| Drainage Basin  (20 x 30 kms) | 830 square miles (1 1/2 times larger than Clayton Valley) |
| Gravity Lows (length) | 20 x 30 kms |
| Valley Sediment (Range) | 460 – 610m (1,500 to 2,000ft) |
| BLM Drilling Permits | Up to 6 holes permitted for drilling |
| Drilling Program | 4 drill holes completed (3 deep and one shallow) |
| Water Right Permits | Water permits pending |
Iconic has finalized plans for its 2019 drilling program( the "Drilling Program") at Bonnie Claire. Five drill holes averaging 90 meters (300 feet) depth will be drilled in the southern portion of the project area in an area of anomalous surface lithium values and interpreted faults. Th e purpose of the Drilling Program is to define shallow lithium mineralization which the Company can utilize for bulk sampling and extend the resource to the south. If results are favorable, one or more of the shallow holes will be deepened to +600 meters (2,000 feet) to further enlarge the resource.