Bonnie Claire is a 100% owned lithium brine property comprising of 23,100 acres of contiguous placer claims, currently in control of 28.75 square miles (75 km2) located in Nye County, Nevada. The property area is contained within a valley that is 60kms from the only producing lithium mine in North America (Albermarle Silver Peak Mine). Bonnie Claire's valley is over +20 miles (+30 km) long and 12 miles (20 km) wide into which streams from an +800 mi2 (2,070 km2) drainage basin empty. The source rocks are quartz-rich volcanics that contain anomalous amounts of lithium. Sampling of salt flats within the basin, have found lithium values in salt samples yielding up to 340 ppm. The deeper part of a gravity low within the valley is 12 miles (20 km) long and initial estimates are the depth to bedrock ranges from 1,500 to 2,000 feet (460-610 m) within this gravity low. The current claim block covers the gravity low and associated mud flats that could be used for evaporation ponds if significant lithium brines are discovered in drilling.
---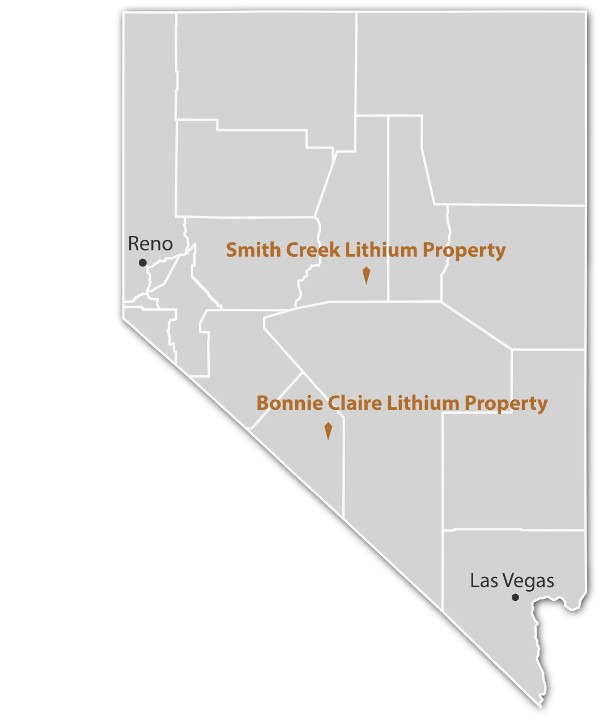 Property Details
---
| | |
| --- | --- |
| Drainage Basin  (20 x 30 kms) | 830 square miles (1 1/2 times larger than Clayton Valley) |
| Gravity Lows (length) | 20 x 30 kms |
| Valley Sediment (Range) | 460 – 610m (1,500 to 2,000ft) |
| Identfied Trapped Brine Horizon | 930 feet average thickness |
| BLM Drilling Permits | Up to 6 wells permitted for drilling (Drilling Program #1 and #2) |
| MT Geophysics Soundings (Ohms) | 0.25 Ohms (highly conductive) |
| Drilling Program |  Drilling completion of first of three test wells |
| Water Right Permits | Permits granted to convert 3 test wells into production wells; additional water permits pending |
---
2019 Planned Drill Holes
---
Iconic has finalized plans for its 2019 drilling program( the "Drilling Program") at Bonnie Claire. Five drill holes averaging 90 meters (300 feet) depth will be drilled in the southern portion of the project area in an area of anomalous surface lithium values and interpreted faults. Th e purpose of the Drilling Program is to define shallow lithium mineralization which the Company can utilize for bulk sampling and extend the resource to the south. If results are favorable, one or more of the shallow holes will be deepened to +600 meters (2,000 feet) to further enlarge the resource.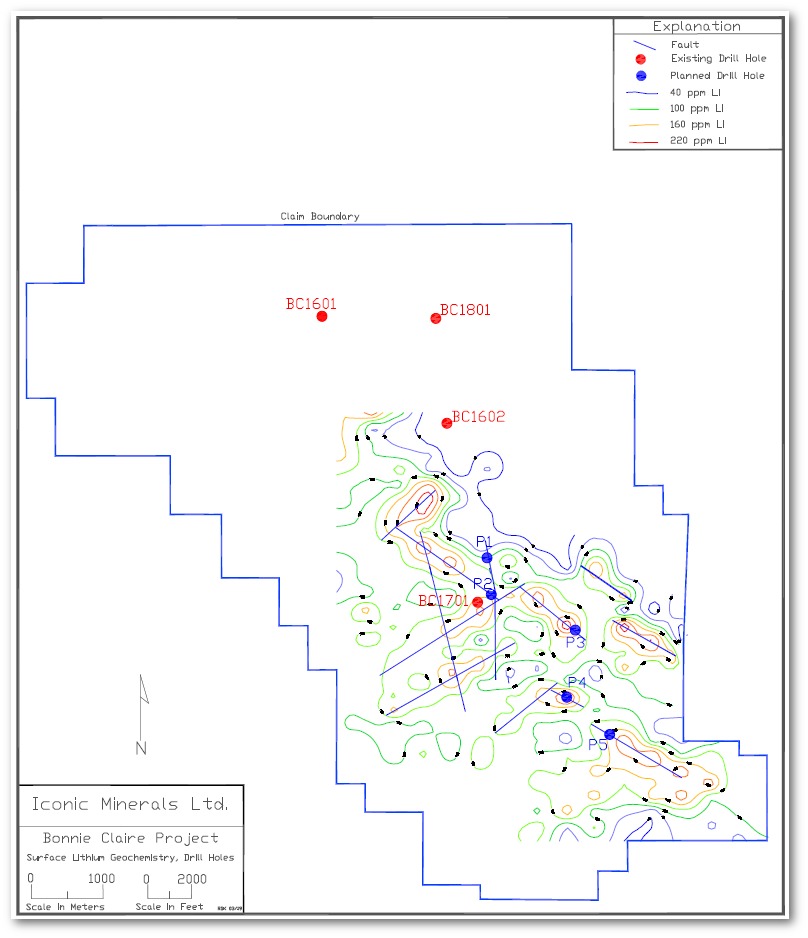 ---
Bonnie Claire Lithium Brine Signature
Basin and Range faulting initiated 16 million years ago created several enclosed basins in Nevada. Before and during this faulting caldera related volcanism deposited large volumes of quartz-rich tuffs and ash flows containing anomalous amounts of lithium. In the last 5 million years there was a transition from humid to arid conditions in western Nevada, drying up Lakes and forming several enclosed basins. Over thousands of years of erosion and deposition in these basins brines formed in permeable host rocks and were then buried. Some of these brines are rich in lithium. Characteristics of Lithium Brines (Globally): Comparatively to several Nevada basins that have been studied, the Bonnie Claire has all of the characteristics to be of significant size potential for a producing lithium project.
---
Arid climate
Closed basin containing a playa
Tectonically driven subsidence
Associated volcanic or geothermal activity
Suitable lithium source rocks
One or more adequate aquifers
Sufficient time to concentrate a brine
---
---
Phase 1 Drill Location Map
---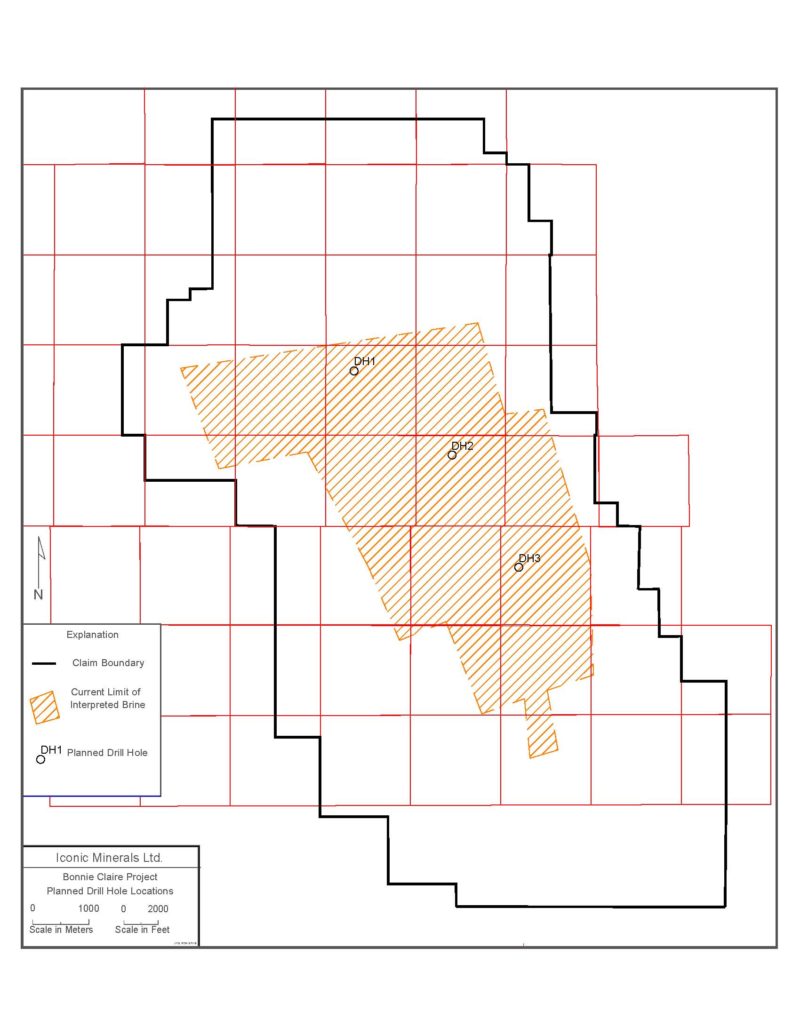 ---
---
MT Geophysics Interpretation
---

---
---
Lithium Brine Benefits
Lower Cost Exploration
Easy access because flat and arid
Decreased environmental impact
Shorter Timeline to Production
Requires Less Capital
Lower Cost Production than bedrock
Found beneath salt flats in brine bearing aquifers
Easily pumped to Surface from vertical production well
After evaporation lithium recovered in small on site mill
Potassium may also be recovered
Nevada is a Geopolitically Stable Jurisdiction
---